Funding Opportunities for Infrastructure Projects
The mission of California Institute for Regenerative Medicine (CIRM) is to accelerate world class science to deliver transformative regenerative medicine treatments in an equitable manner to a diverse California and world. In December 2021, CIRM released its Strategic Plan for 2022-2027. The Strategic Plan describes CIRM's Infrastructure Programs which are designed to address the challenges that currently hinder progress in the regenerative medicine field.
INFR 6: Shared Resources Laboratories for Stem Cell-Based Modeling
The Shared Resources Laboratories (SRL) for Stem Cell-Based Modeling program intends to accelerate regenerative medicine research by creating a network of SRLs that 1) broaden access to stem cell-based models across CA, 2) advance standards and reproducibility of stem cell-based models, 3) increase access to educational opportunities in stem cell-based techniques, and 4) develop sustainable stem cell core infrastructure.
The program intends to fund two different types of SRLs that will be solicited through two separate requests for applications (RFAs): 1) Establishing (E)-SRLs to provide local access to stem cell-based models, training, specialized equipment, and educational opportunities in geographic areas/locations where access to models is limited; and 2) Enhancing / Expanding (E/E)-SRLs to enable leading experts in stem cell-based modeling to share their models and expertise locally and broadly across California. CIRM expects SRLs to become self-sustaining by the end of the award period.
Please see the INFR 6.1 RFA for full details:
Please see the INFR 6.2 RFA for full details:
Watch a video recording
of our INFR6 Shared Resources Laboratories for Stem Cell-Based Modeling webinar from June 27, 2023. The slide deck is available
here
and a webinar Q&A document is available
here
.
The applications for Shared Resource Laboratories are closed.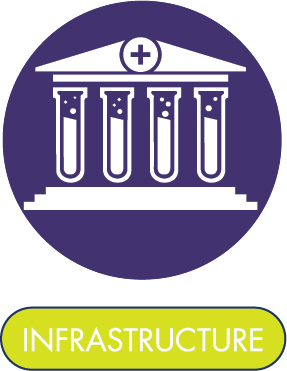 INFR 7: CIRM Patient Support Program Services
The objective of this funding opportunity is to support the establishment and operations of a CIRM Patient Support Program (PSP). CIRM seeks to identify a meritorious organization to implement patient support services that will enhance the accessibility of patients to CIRM-funded clinical trials, particularly for underserved populations. The goal of a CIRM-funded PSP is to create consistent, efficient, streamlined, and reliable access to resources and support across all the different types of CIRM-funded programs.
Please see the INFR 7 RFA for full details:
The application for Patient Support Program Services is closed.
To Submit an Application:
Go to the Grants Management Portal (https://grants.cirm.ca.gov) and log in with your existing CIRM Username and Password. If you do not have a Username, Click on the "New User" link and follow the instructions to create a CIRM Username and password.
After logging in, Click on the Menu tab. Select the tab labeled "Open Programs". Under the section labeled "RFAs and Programs Open for Applications", click on the applicable link to "Start an INFR Application".
Complete each section of the Application by clicking on the appropriate link and following the posted instructions. Proposal templates can be located and submitted under the "Uploads" section.
To submit your Application, click on the "Done with Application" button. The "Done with Application" button will be enabled when all of the mandatory sections have been completed. Please note that once this has been selected, you will no longer be able to make changes to your Application.
To confirm submission of your Application, select the tab labeled "Your Applications" and check the table under the section labeled "Your Submitted Applications". You will see your Application number and project title listed once the submission process has been completed.
For more information on the programs and buildings we've funded, check out our Program and Building Infrastructure Page.