Stories of Hope: Spinal Cord Injury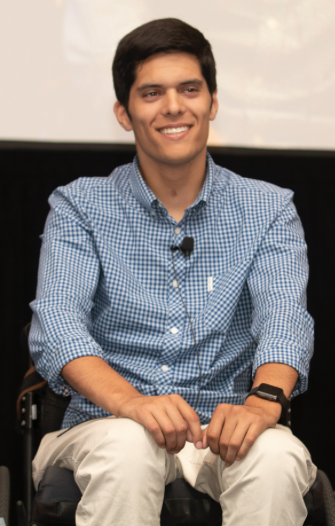 In high school, Jake Javier played offensive line and was being recruited to continue to play football in college.  His original plan was to play football for Cal Poly San Luis Obispo while studying mechanical engineering. Unfortunately, one day before his graduation from San Ramon Valley high school, Jake was paralyzed from the neck down in a freak accident after diving into a swimming pool.
28 days after his accident, Jake enrolled in a CIRM-funded clinical trial for spinal cord injury patients and received a transplant of 10 million stem cells.  Although he has not regained the use of his legs, the stem cell therapy has helped Jake reclaim his sense of independence.  He regained enough use of his arms and hands to be able to go to Cal Poly San Luis Obispo to pursue his degree in biomechanical engineering and resume his life.  With some slight accommodations to take into account his use of a wheelchair, Jake has been able to live independently on campus and has even been able to drive a car.
Jake wasn't the only patient in the trial to benefit from the therapy. All the patients experienced some improvements, a couple even more so than Jake.
Lineage Cell Therapeutics, the company behind this approach, has now made improvements to the therapy and hopes to apply to the US Food and Drug Administration in the near future for permission to run another clinical trial.
For more information about CIRM-funded spinal cord injury research, visit our fact sheet.