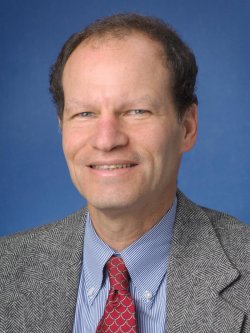 University of California, San Diego
Vice Chancellor for Health Sciences and Dean, School of Medicine
An executive officer from a UC
Appointed by UC Chancellor
David Brenner, M.D., a distinguished physician-scientist who began his academic career at UC San Diego, is Vice Chancellor for Health Sciences and Dean of the School of Medicine at UC San Diego. Brenner leads the UC San Diego School of Medicine, Skaggs School of Pharmacy and Pharmaceutical Sciences, UCSD Medical Center and UCSD Medical Group. He has oversight of over 900 health sciences faculty physicians, pharmacists and scientists; 7,500 staff; more than 600 medical and pharmacy students; and a health system that cares for approximately 125,000 patients
annually.
Brenner is a leader in the field of gastroenterological research, specializing in diseases of the liver. He is widely known and respected as a translational scientist whose work bridges the laboratory and the clinical setting. He has focused on understanding the molecular pathogenesis of fibrotic liver disease and the genetic basis of liver disorders as the foundation for improving prevention and treatment of diseases of this organ. He is also recognized as an outstanding clinician and teacher.
For five years he was Editor-in-Chief of Gastroenterology, the premier journal in the field. After earning his M.D. from the Yale University School of Medicine and completing his residency at Yale-New Haven Medical Center, Brenner was a research associate in the Genetics and Biochemistry Branch of the National Institute of Arthritis, Diabetes, Digestive and Kidney Diseases of the National Institutes of Health. He first came to UC San Diego in 1985 on a fellowship in gastroenterology, later joining the faculty of UC San Diego School of Medicine, and serving as a physician at the Veterans Affairs San Diego Healthcare System. He became a Pew Scholar in the Biomedical Sciences and a Clinical Investigator in the VA system. He left UC San Diego in 1992 to become Professor and Chief of the Division of Digestive Diseases and Nutrition at the University of North Carolina at Chapel Hill, where he continued to earn accolades for his patient care and research contributions. Brenner became the Samuel Bard Professor and Chair of the Department of Medicine at Columbia University Medical Center, College of Physicians and Surgeons, and Physician-in-Chief of New York Presbyterian Hospital/ Columbia in 2003.
Brenner's professional associations include the American Society for Clinical Investigation, the Association of American Physicians, which he was president 2011- 2012, the American College of Physicians, the American Gastroenterological Association, the American Clinical and Climatological Association, and the Institute of Medicine. He is also on the board of directors of two philanthropic foundations, the AlphaOne Foundation and the Alcoholic Beverage Medical Research Foundation.
Alternate:
Douglas Ziedonis, MD, MPH, serves as Associate Vice Chancellor (AVC) for Health Sciences at UC San Diego and is a tenured professor in the Department of Psychiatry. As AVC, he has broad responsibilities in all mission areas, including strategic planning coordination, serving on the UC San Diego Health Executive Governing Board, and providing leadership, coordination, and evaluation to all professional schools, departments and divisions throughout Health Sciences, which includes the School of Medicine and Skaggs School of Pharmacy and Pharmaceutical Sciences.
His roles include overseeing Academic Affairs, Faculty Affairs, Health Sciences International, Human Resources, Compliance, the cross-campus Institute of Public Health and leading the development of a new School of Public Health proposal. He has an oversight role for Health Sciences Education of coordinating education between medical, pharmacy, and public health studies with an emphasis on inter-professional education and has overseen Medical Education (undergraduate, graduate, and continuing medical education).  This work includes spearheading initiatives on equity, diversity, and inclusion as well as promoting wellness and engagement.
A distinguished physician-scientist and leader in the field of addictive disorders research, he was recruited to UC San Diego in 2017.  For 10 years prior he was chair of the Department of Psychiatry at the University of Massachusetts Medical School and president of UMass Memorial Behavioral Health Services. Under his leadership, his department became one of the largest in the country, with over 375 faculty supported by 2,000 staff, and substantial growth in research, clinical services, and education.
Prior to UMass, Dr. Ziedonis had a series of increasingly complex leadership roles at UCLA in the 1980s, Yale University in the 1990s and then nine years at Rutgers / University of Medicine and Dentistry of New Jersey. He received his medical degree from Pennsylvania State University Medical School and his master's of public health degree from Yale University. As an addiction psychiatrist, he has received the "Best Doctor" award for more than 10 years, with extensive clinical leadership oversight for all levels of behavioral health services.
Dr. Ziedonis is internationally recognized for his research in co-occurring mental illness and addiction, especially tobacco addiction and recovery-oriented interventions. His research has been continuously funded for more than 25 years and received over 110 grants (28 as principal investigator), resulting in over 300 publications and scholarly works.  He serves on multiple editorial boards, including The Scientific World Journal and the Shanghai Archives of Psychiatry. He is active in global initiatives, including current research in the UK, China, Latvia, Italy and Denmark.  
He was selected as a Council of Dean's Fellow for the Association of American Medical Colleges, advisor to President George W. Bush's New Freedom Commission on Mental Health, and senior fellow for the Substance Abuse and Mental Health Services Administration. He also led and worked on numerous initiatives for the Veterans Administration, the American Psychiatric Association, American Academy of Addiction Psychiatry, Robert Wood Johnson Foundation and Institute of Medicine.