A Double-Blind Randomized Placebo-Controlled Investigation of Autologous Muscle Derived Progenitor Cells for the Treatment of Dysphagia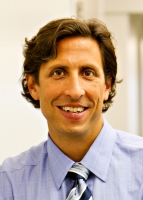 Disease Area:
Muscle Injury
Award Value:
$11,015,936.00
Trial Sponsor:
University of California, Davis
Details:
Patients with head and neck cancer often undergo surgery and/or radiation to remove the tumors. As a result, they may develop problems swallowing and this can lead to serious complications such as malnutrition, dehydration, social isolation, or a dependence on using a feeding tube. Patients may also inhale food or liquids into their lungs causing infections, pneumonia and death. The only effective therapy is a total laryngectomy where the larynx or voice box is removed, leaving the person unable to speak.
Dr. Peter Belafsky and his team at the University of California at Davis are developing a therapeutic approach using Autologous Muscle Derived Progenitor Cells (AMDC), cells derived from a biopsy of the patient's own muscle, elsewhere in the body. Those AMDCs are injected into the tongue of the patient, where they fuse with existing muscle fibers to increase tongue strength and ability to swallow.