September 2011 Digest
CIRM September Digest
Advocates Celebrate Stem Cell Awareness Day and World Summit
On October 5th, patients, advocates, researchers and students around the globe will celebrate Stem Cell Awareness Day with special activities planned in six countries and five states in the U.S. with at least 25 events at academic and research institutions in California alone. Stem cell researchers will also visit over 50 high school classrooms in California. Coinciding with Stem Cell Awareness Day is the October 3-5 World Stem Cell Summit in Pasadena. The summit includes more than a thousand advocates, scientists and industry leaders expected to share information on ways to accelerate the advancement of therapies.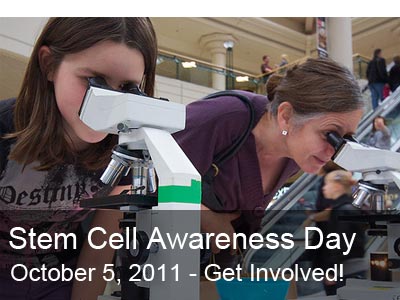 First Californian Enrolls in CIRM-funded Spinal Cord Injury Trial

On September 17th, the first Californian patient was enrolled in a clinical trial funded in part by CIRM. The trial is testing an investigational therapy derived from embryonic stem cells in patients with spinal cord injury, marking a milestone in CIRM's progress from funding basic discoveries to clinical research. The patient was the fourth nation-wide enrolled in the trial run by Menlo Park-based Geron, Corp, which developed and produced the cells being tested in the clinical trial.  Stanford University School of Medicine's Gary Steinberg performed the surgery at Santa Clara Valley Medical Center.

2011 Stem Cell Meeting on the Mesa: Registration Now Open!
Registration is now open for the 2011 Stem Cell Meeting on the Mesa. Now in its 6th year, Stem Cell Meeting on the Mesa is a well-known scientific symposium, which draws over 600 attendees from the business, academic and patient advocacy communities. CIRM is an organizer and sponsor of a new component of the meeting, the Investor and Partnering Forum. This forum will have interactive panel discussions that address commercialization, regulatory and reimbursement issues as well as presentations by CIRM Grantees seeking partners and investors. Please join us in La Jolla on November 30 and December 1, 2011.
2011 CIRM Grantee Meeting Video: Stem Cells - Fulfilling the Promise
John Wagner presented the closing scientific talk at the 2011 CIRM Grantee Meeting. Weaving together stories of medical history, literature, bioethics, and his own clinical work, Wagner describes the challenges and promise of stem cell based therapies. Dr. Wagner is director of the Division of Hematology-Oncology and Blood and Marrow Transplantation at the University of Minnesota. Stayed tuned for more videos from the Grantee Meeting.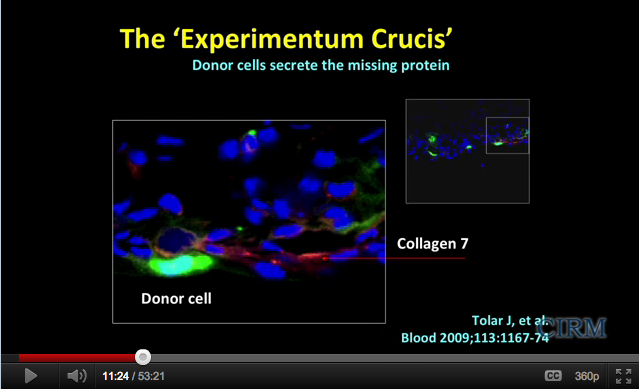 September's Science picks by Alan Trounson
This month's hottest stem cell papers chosen by CIRM president Alan Trounson. This month brought new understanding about the differences between embryonic and iPS cells and improvements in bone marrow transplant techniques, among other news.