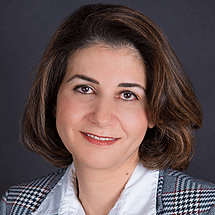 Haifaa Abdulhaq, M.D.
University of California, San Francisco (Fresno Campus)
Director of Hematology, Clinical Professor in Hematology and Oncology
An executive officer from a UC
Appointed by UC Chancellor
Haifaa Abdulhaq, M.D. is Clinical Professor in Hematology and Oncology, UCSF and she is the director of hematology at UCSF Fresno and the director of Hematology/Oncology fellowship program at UCSF Fresno. She is board certified in hematology and medical oncology with expertise in Malignant Hematology including Lymphoproliferative neoplasms, Myeloproliferative neoplasms, Acute Leukemia, Multiple Myeloma and interest in Stem Cell transplantation.
Dr. Abdulhaq completed her residency in internal medicine and fellowship in hematology & oncology at Western Pennsylvania Hospital and Allegheny General Hospital in Pittsburgh, Pennsylvania.
She is a member of The American Society of Hematology, the American Board of Internal Medicine, the American Society of Clinical Oncology and the American Society of Blood and Bone Marrow Transplantation. Dr. Abdulhaq is a board member of the Leukemia and Lymphoma Society, Central California Chapter and she also serves as the chair of Cancer Committee at Community Medical Centers.
Dr. Abdulhaq has special interest in medical education. She is a recipient of Henry Kaiser Award for Excellence in teaching at UCSF . She is also interested in clinical research and serves as the principal investigator on many clinical trials in malignant hematology.
updated 2/22/21