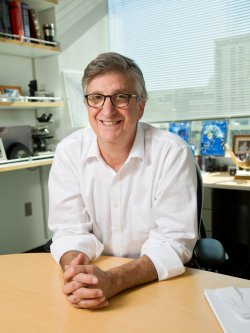 Children's Hospital Los Angeles
Chief Scientific Officer, Vice President and Director, The Saban Research Institute, Children's Hospital Los Angeles
An executive officer from a California Research Institute
Pat Levitt, PhD, is Chief Scientific Officer, Vice President and Director, The Saban Research Institute, Children's Hospital Los Angeles (CHLA). He holds the Simms/Mann Chair, Developmental Neurogenetics at CHLA and W.M. Keck Provost Professor, Neurogenetics, Keck School of Medicine, University of Southern California. Dr. Levitt served as Chairman of the Department of Neurobiology at the University of Pittsburgh School of Medicine and the Director of the Vanderbilt Kennedy Center for Research on Human Development. Dr. Levitt was appointed to the U.S. National Advisory Mental Health Council for the National Institute of Mental Health.
Dr. Levitt is an elected member of the National Academy of Medicine, and an elected fellow of the American Association for the Advancement of Science and the Dana Alliance for Brain Initiatives. He is a senior fellow at the Center on the Developing Child at Harvard University, and serves as Co-Scientific Director of the National Scientific Council on the Developing Child, a policy council focused on communicating science to assist policy makers, service providers and business leaders in making decisions regarding investments in child brain and physical health programs.
Dr. Levitt's basic and clinical research program focuses on identifying the genetic and environmental factors that assure healthy development of brain architecture, particularly maturation of circuits involved in cognition, emotional regulation and social behaviour. Specific projects address how toxic stress responses in human infants and toddlers may be detected very early on in order to develop best practices for promoting resilience and better prevention and intervention. He also engages families in research who have a child with autism and co-occurring medical conditions, such as gastrointestinal and seizure disorders.  He has published over 300 scientific papers and has served on the editorial boards of many scientific journals — including his current role as editor-in-chief of Mind, Brain, and Education.
*updated 4/7/21*