CIRM has one singular mission: to accelerate stem cell treatments to patients with unmet medical needs.
A dedication to this mission guides every action by CIRM. With a team of dedicated staff and with oversight from its governing Board, CIRM funds promising research programs that are poised to transform stem cells into cures.
California's Stem Cell Agency was created in 2004 when 59% of California voters approved Proposition 71: the California Stem Cell Research and Cures Initiative. That initiative created the California Institute for Regenerative Medicine (CIRM) to fund stem cell research in the state. In addition to creating the agency, Prop 71 created a 29-member governing Board composed of researchers, business leaders and patient advocates. Read more about the creation of CIRM here.
Where Our Funding Goes
Proposition 71 allocated a total of $3 billion. Of that $3 billion, Prop 71 around $2.75 billion was set aside to be awarded to directly to research, facilities and training the next generation of stem cell scientists (see graph at left).[1] The remainder was then earmarked for staff and administration to help oversee the funding and awards.
CIRM's governing Board has awarded $1.9B to different institutions, companies and researchers but only $1.4B of that has gone out. Of the remainder, it is estimated that about $100M will be returned to CIRM, either from cost savings as the projects progress or from programs that are cancelled because they failed to meet their goals. The $1.9B awarded had gone to 668 awards distributed over five main categories.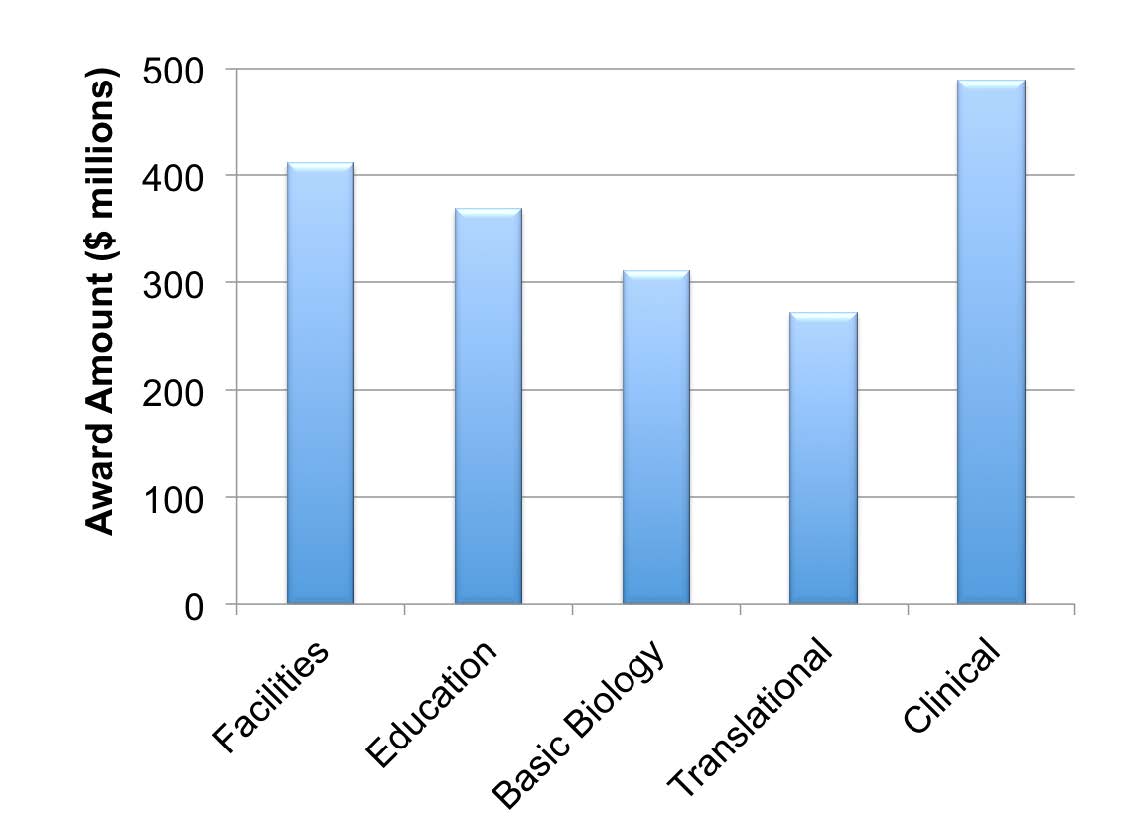 Increasingly, CIRM's focus has been on moving projects out of the lab and into the clinic. In those categories—called "translational" and "clinical"—CIRM has awarded almost $630M in funding for more than 80 active programs.
Under CIRM 2.0, which debuted in January 2015, the number of projects moving into clinical trials stands to increase significantly—thus helping achieve CIRM's mission of accelerating stem cell treatments to patients with unmet medical need. Learn more about CIRM 2.0 here.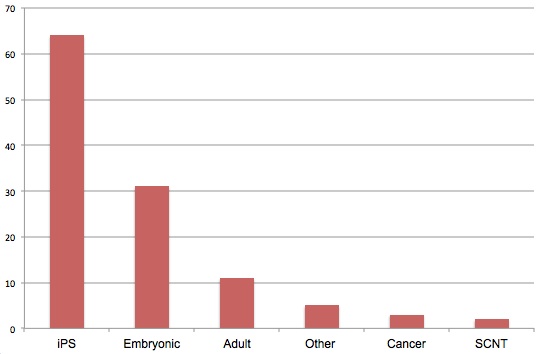 CIRM funds research involving all types of stem cells. While recent advances in iPS cell-technology are promising, embryonic stem cells are still the gold standard in the field. It's important to explore all promising lines of research when looking for the best options to treat diseases with unmet medical needs. You can see a complete list of awards using each type of stem cell on our list of all awarded stem cell grants.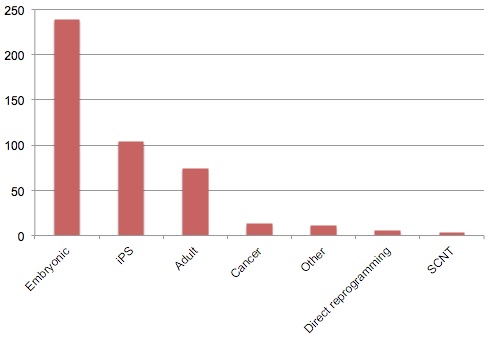 This chart includes only those grants with a specific intent to derive new human stem cell lines for the purposes of distribution, investigation of disease processes or development of therapeutic candidates. Grants with a focus on basic stem cell biology or tool development are not included. You can see a complete list of awards deriving each type of stem cell on our list of all awarded stem cell grants.
CIRM funds research into a wide range of diseases, shown at left. Areas of disease impact are designated by percentage of committed funds. The chart does not include grants with broader impacts, such as those seeking to understand basic mechanisms of stem cell biology or developing new tools and technologies for advancing therapies.
Find Out More:
CIRM Funding Commitments
List of CIRM-Funded Institutions
List of CIRM Grantees
Search all CIRM Grants
[1]As of late 2014, $1.9B has been awarded, $1.4B has been spent and $873M has yet to be awarded. The difference between "awarded" and "spent" is due to the fact that each award comes with a series of targets, or milestone, that the grantees must reach before being awarded the next installment of their award. The goal here is to keep the research on track to meet its goals. If the goals are not met, CIRM suspends funding.