Spotlight on Lou Gehrig's Disease (ALS)
On June 23, 2010 the CIRM governing board heard a Spotlight on Lou Gehrig's Disease (ALS) featuring reseachers, clinicians and a patient speaking about their hope for stem cell research. These are their stories.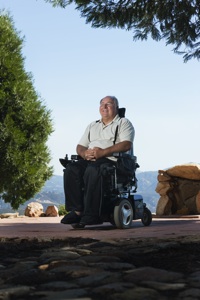 Dan Desmond
El cajon, CA
Dan Desmond caught himself using a hoe as a crutch as he walked his 6-acre property east of San Diego. It was one of the little hints he ignored until the day four years ago when he couldn't finish a hike. "My legs just weren't working," he said.
He had amyotrophic lateral sclerosis, the doctors told him, Lou Gehrig's disease. He went online to learn more and spent two hours at the ALS Association office in San Diego. "I did not like what I was hearing," he said. "I did not like the way things were going." But he found a way to cope.
"I still have a great life with my children, grandchildren and friends," the 64-year-old said. But the disease progresses. He's in a wheelchair. The muscles in his chest, arms and hands are growing weaker.
He subscribes to a philosophical attitude. "Everyone has depression at different times, and everybody's going to die at one time or another. So what we're talking about, from here to death, what kind of quality of life do you want, and what can you do to impact the quality? That's how I look at life."
He says he knows stem cell research underway today is not likely to help him, "but the research is going to help thousands of people down the road, and I think that's wonderful."