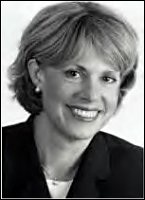 Joan Samuelson, J.D.
Patient Advocate Parkinson's Disease
Appointed by the Controller
Joan Samuelson began her career in public policy on the staff of U.S. Senator John Tunney (DCalif.). She later worked with the California Coastal Commission while she pursued her law degree. The 1987 diagnosis of Parkinson's disease led her to abandon the practice of law and create an advocacy voice for the Parkinson's community, seeking greater research freedom, increased research funding and a faster cure. Samuelson founded the Parkinson's Action Network in 1991 and successfully engaged Congress and the executive branch via a series of national patient advocacy campaigns, resulting in 1997 enactment of the seminal Morris K. Udall Parkinson's Research Act, and federal appropriations that combined to increase Parkinson's research funding tenfold.
A lifetime Californian, Samuelson played an active role in the campaign resulting in the 2004 passage of California's Proposition 71 Stem Cell Research and Cures Act. She currently holds the "Parkinson's advocate" seat on the Act's 29-member Independent Citizens Oversight Committee, the governing board, and serves as Vice Chair of the Research Funding Working Group.
Samuelson has served in numerous advisory capacities on biomedical research and health policy, including as an Independent Report Reviewer for the 2004 Report of the National Academies' of Science Institute of Medicine on NIH Extramural centers Programs; on the Advisory Committee to the Director, National Institute of Environmental Health Sciences; and in 2004 as Patient Advocate on the Medicare Consumer Advisory Committee. She has served as an advisor to research organizations including the NIEHS Collaborative Center for Parkinson's Disease Environmental
Research, the Parkinson's Institute and the Environmental and Occupational Health Sciences Institute at UMDNJ/Robert Wood Johnson Medical School.
Among those recognizing Samuelson's work are the American Society for Neural Therapy and Repair, 2008 [Molly and Bernard Sanberg Lifetime Achievement Award "for Significant Contributions to the field of Brain Repair"]; California Lutheran University, 2007 Doctor of Humane Letters honoris causa ["in recognition of advocacy for Parkinson's research"]; the Parkinson's Institute, 2003 ["Outstanding Achievement"]; Research!America, 2000 ["Exceptional Contributions as a Volunteer Advocate for Medical Research"]; Community Resources for Independence, 2000, Dove Award ["in recognition of Outstanding Contributions to Persons with Disabilities"]; Alumni Association, University of California, Berkeley, School of Law [1996 Distinguished Service Award]; California Lawyer Magazine [1996 "Legal Eagles," 25 California lawyers "who made new law or policy or changed the course of national events"]; and California Federation of Business and Professional Women, 1993 [Hall of Fame, Government].
Samuelson is a graduate of the University of California at Los Angeles [B.A. cum laude, Public Service, 1972] and the School of Law at the University of California at Berkeley [Juris Doctor, 1977]. She is a member of the California Bar. Before leaving the active practice of law for patient advocacy, Samuelson specialized in civil litigation and alternative dispute resolution.